A terminally ill person who is the biggest Star Wars Movie had a wish to watch a new Star Wars movie but Unfortunately, he did not have that much time to wait for the release of the Movie. The new Star Wars Movie Rise of Skywalker is set to be release in 30 December. So people on the Internet help to spread his wishes so that some one in Disney can see it and make his wishes possible.
In November 26 2019, Rowans Hospice shared a message asking if anyone can help him so that he can fulfill his dying wishes. The message was shared/retweeted by thousands of people.
Can you help? We have a patient who's a HUGE #StarWars fan. Sadly, time is not on his side for the 20th Dec. His wish is to see the final Star Wars film #RiseOfSkywalker with his young son. If you know ANYBODY who might be able to make it happen, please share with them. Thank you

— Rowans Hospice (@RowansHospice) November 26, 2019
Within a couple of days, Disney CEO Robert Iger was the tweet and replied to this tweet asking for more details.
Please provide me with the necessary details and we will certainly try.

— Robert Iger (@RobertIger) November 27, 2019
Then finally all the arrangement was made so that he can watch the new Star Wars movie before the release of the movie.
A dying Star Wars fan in England got to see #TheRiseOfSkywalker today at @RowansHospice with his family, thanks to @Disney and @RobertIger. Here's a photo of the patient and his son, who wanted to remain safely anonymous. @ABC pic.twitter.com/gLOnANqYrT

— Clayton Sandell (@Clayton_Sandell) November 29, 2019
Patient who wishes to be anonymous issued a statement thanking everyone who help to make this dream possible.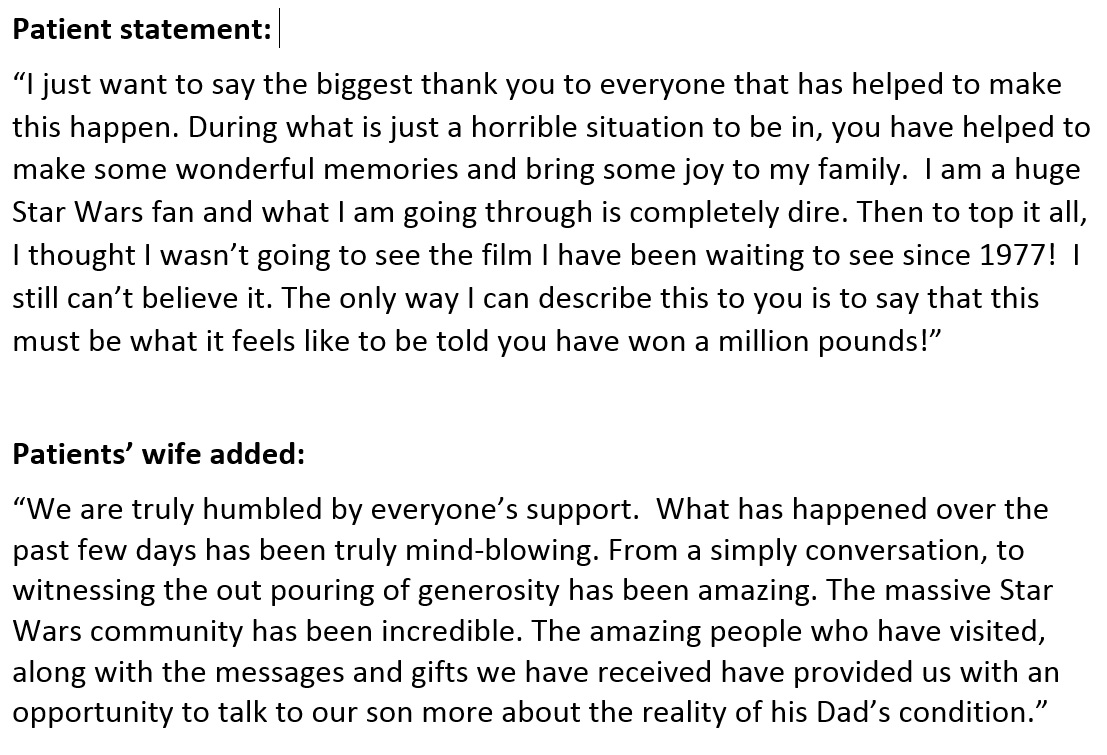 Mark Hamill was also very happy by hearing this news. He also shared his happiness thanking Disney and Robert Iger to make this event successful .
Many thanks to @RobertIger & everyone at @Disney for making this happen! Hope the Rowan Hospice patient not only enjoyed the film, but gets an extra-special satisfaction in knowing he saw it before I did. https://t.co/qpECeomcCX

— Mark Hamill (@HamillHimself) November 29, 2019
This type of news is really uplifting and needed to remind people that Internet can also be used to spread happiness in the world.
What is the new Star Wars Movie?
Star Wars: The Rise of Skywalker is new Star Wars movie which will be releasing in 20 December 2019. This will be third movie in the Star Wars sequel trilogy, following The Force Awakens (2015) and The Last Jedi (2017).
This Movie will take place a year after the events of The Last Jedi. In this movie the remnants of the Resistance face the First Order once again and Conflict between Jedi and the Sith reaches its climax
Also read
[visual-link-preview encoded="eyJ0eXBlIjoiaW50ZXJuYWwiLCJwb3N0IjoxNTkwMCwicG9zdF9sYWJlbCI6IlBvc3QgMTU5MDAgLSBXb21hbiB3aG8gd2FzIGFkbWl0dGVkIGFmdGVyIEN1Y3VtYmVyIGdvdCBzdHVjayBpbiBoZXIgdmFnaW5hIHNheXMgaXQgd2FzIGp1c3QgYW4gYWNjaWRlbnQiLCJ1cmwiOiIiLCJpbWFnZV9pZCI6MTU5MDEsImltYWdlX3VybCI6Imh0dHBzOi8vaG9sbHl3b29kbWFzaC5jb20vd3AtY29udGVudC91cGxvYWRzLzIwMTkvMTEvd29tZW4tMzcweDI5Ny5wbmciLCJ0aXRsZSI6IldvbWFuIHdobyB3YXMgYWRtaXR0ZWQgYWZ0ZXIgQ3VjdW1iZXIgZ290IHN0dWNrIGluIGhlciB2YWdpbmEgc2F5cyBpdCB3YXMganVzdCBhbiBhY2NpZGVudCIsInN1bW1hcnkiOiJPbmUgc3RvcnkgZnJvbSBUaGFpbGFuZCBnb3QgdmlyYWwgaW4gc29jaWFsIG1lZGlhIHdoZW4gaXQgd2FzIHJlcG9ydGVkIHRoYXQgYSBUIiwidGVtcGxhdGUiOiJ1c2VfZGVmYXVsdF9mcm9tX3NldHRpbmdzIn0="]