Netflix is one of the most popular streaming services in world. It is available in more than 200 countries and has content from all over the world. It has both original contents and also acquires right for other contents. So there is no lack of content in Netflix. But the problem is Netflix can't advertise all of its content equally to the massive library of content and much good show got lost in this massive pile of content. So to help you, We have listed some of the Underrated Netflix Gems that you might like. Here are some of the Underrated Netflix show you can watch.
List of  Underrated Netflix Show 2019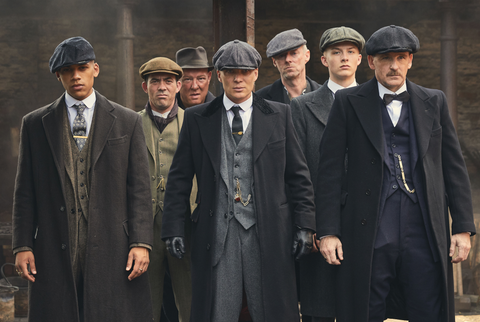 If you have not watched Peaky Blinders then you must start it as soon as possible because it is most definitely one of the most Underrated Netflix Show. Peaky Blinders is the show about the Most popular gang in Birmingham, England. This show focuses on the leader of this gang Thomas Shelby and his family. This is really one of the best crime-related drama available on Netflix.
This is seriously one of the best Black Comedy Anthology Series available on Netflix. This show brilliantly mixes dark humor with genres like crime, horror or drama in every episode. Every episode is different from each other, they experiment with many genres. Don't Miss this Gem in Netflix.
The End of F***king World
The End of F***king World is based on comic book series by Charles Forsman of the same name. This series follows two 17-year-old outsiders, James and Alyssa and their trip together to find her estranged father. .This dark comedy romance is different because of its unique and brilliant storyline. James, who is convinced he's a psychopath decided to upgrade himself from killing an animal to a real human being and he already has a target in mind, Alyssa. Alyssa is a troubled girl who feels like an outsider in both homes and in school. After her stepfather tries to abuse her she left her home with James to find her real father.  Don't miss this amazing Series.
Broadchurch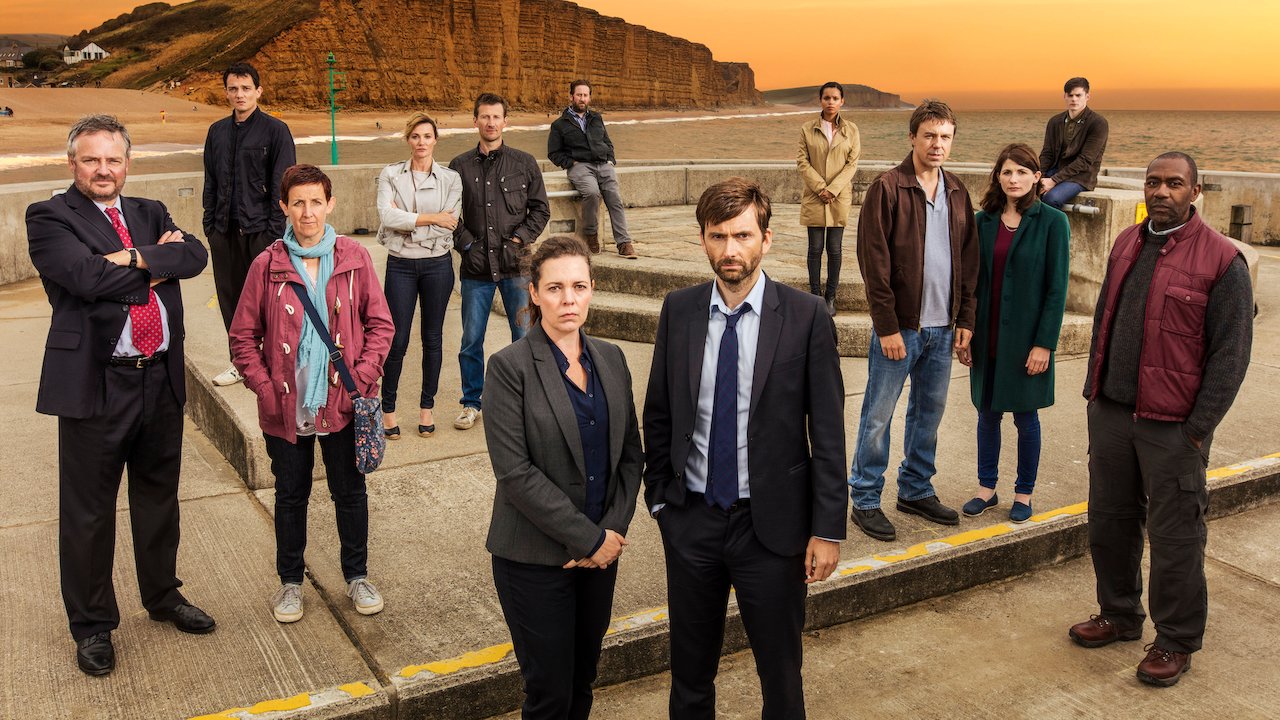 Broadchurch is a British serial crime drama which was a huge success in the UK. This series starts with the death of an 11-year-old British boy, Danny Latimer and follows with the investigation of his death. The series stars David Tennant and Academy award winner Olivia Colman.
Alias Grace
This show is based on the 1996 Margaret Atwood novel of the same name and tells the story of young Grace Marks, a poor Irish immigrant and domestic servant in Upper Canada who is accused and convicted of the 1843 murder of her employer and his housekeeper. The amazing thing about this series is that it's actually based on real-life events.
Schitt's Creek
If you want to watch something light and funny to watch in Netflix then Schitt's Creek is defiantly the best choice for you. This Canadian television sitcom is one of the funniest show available on Netflix. It follows Johnny Rose and his family when they suddenly became broke and need to regroup in Schitt's Creek.
Santa Clarita Diet
Imagine suddenly one day your wife became a zombie and start to eat a human being. This Comedy-horror show stars Drew Barrymore and Timothy Olyphant in the role of Sheila and Joel, Whose life suddenly changes when Sheila get transformed in Zombie and start eating human flesh.
Love, Death & Robots
This series is the collection of animated short stories which includes several genres like science fiction, fantasy, horror, and comedy. This is a brilliant show for Sci-fi and fantasy lovers. This show's executive producers is Oscar-nominated director David Fincher.

Luther

Luther is British crime drama series starring Idris Elba as DCI John Luther and follows the life of John Luther. Despite being brilliant at his job, he is being tormented by the dark side of humanity while trying to find a killer. It then became a psychological game between predator and prey.


Sex Education

Sex Education follows a group of student in high school and their problems. In this series, teenage boy Otis Milburn with a sex therapist mother teams up with a high school classmate Maeve Wiley to set up an underground sex therapy clinic at school
The OA
The OA is one of the smart and unique series available on Netflix. This Series stars Brit Marling who plays the role of  Prairie Johnson, an adopted young woman who suddenly returned having been missing for seven years. This series then explores what really happened in those years.
Dead To Me
Dead to me is a dark comedy about a powerful friendship that blossoms between hotheaded widow searching for the hit-and-run driver who mowed down her husband and an eccentric optimist who isn't quite what she seems. This series is one of the best series released in 2019. Don't miss this amazing series.
The 100

The 100 is a post-apocalyptic series based on the book of the same name. In this series, 100 young people are sent back to earth with the hope of repopulating the planet. They must face the unknown enemy and take a many difficult decision to survive.
BoJack Horseman
Bojack Horseman is adult animated comedy-drama series which stars Will Arnett as the title character. This is unique and interesting series that follows a self-loathing alcoholic horse currently in his 50s and whose acting career peaked when he starred in a successful '90s family sitcom called Horsin' Around. This series is both critically and publicly acclaimed.
Love Sick
Lovesick is a British sitcom created by Tom Edge and Stars Johnny Flynn, Antonia Thomas, Daniel Ings, and Joshua McGuire. This is a simple story of Dylan After finding out he has an STD, Dylan must get back in touch with every girl he has ever had sex with to let them know the bad news.
Lucifer

What would happen if the king of hell, Lucifer Morningstar decided to leave hell and start living in Los Angels to solve the crime? This is an amazing show that Netflix picked after Fox canceled it.
It is Gem you don't want to Miss.
Atypical
It's a Heartfelt comedy about a boy with autism who decided he is ready to find love and to do so he needs to learn to be more independent. This decision changed him and his family's life.
Chewing Gum
It is one of the highest-rated comedy available on Netflix. This amazing show follows Tracey Gordon, a religious and Beyonce-obsessed 24-year-old who discovers that the more she learns about the world, the less she understands.
Love

Love is romantic comedy Netflix Original created by Judd Apatow and follows a couple who must follow the exhilarations and humiliations of intimacy, commitment and other things they were hoping to avoid.
The Fall

The Fall is a British-Irish crime drama series starring Gillian Anderson as Detective Superintendent Stella Gibson and features Jamie Dornan as serial killer Paul Spector. In this series, Stella must battle her own personal demons as she tries to get inside the head of a serial killer hiding behind a family-man facade. It is one of the best thrilling series available on Netflix
Many people know about the Netflix series Orange is the new black but people who watch this amazing series argue this version is better than OITNB. In this series, Bea Smith is locked up while awaiting trial for the attempted murder of her husband and she must learn how life works in prison.
Lie to me

Lie to me is American Crime drama about Cal Lightman, who is the world's leading deception expert who studies facial expressions and involuntary body language to expose the truth behind the lies. This show is inspired by the work of Paul Ekman who is expert in the human facial expert.


Safe
Safe is a British television drama mini-series which focuses on Tom Delaney (played by Michael C. Hall), a pediatric surgeon and widowed father of two teenage daughters. As he is struggling to connect to his daughters as they still grieve the loss of his wife from cancer one year prior. His life dramatically changes after his 16-year-old daughter Jenny goes missing and he ends up uncovering a web of secrets as he began searches for her.
American Vandal
Netflix is popular for its amazing document series but American Vandal is mockumentary series. This series is a funny parody of true crime documentaries such as Making a Murderer and Serial. American Vandal follows the aftermath of a high school prank that left 27 faculty cars vandalized with phallic images. For that crime, Senior class clown Dylan Maxwell is accused by the school. He is expelled, but to uncover whether Dylan was the one truly behind the crime or not sophomore Peter Maldonado and his friend Sam Ecklund launches an investigation into the incident.